Cross Country Sectional Results
The Tiger Cross Country team traveled to Noblesville to run in a very tough Sectional race with teams from Carmel, Fishers, Westfield, Hamilton Southeastern, Noblesville, Guerin Catholic, Hamilton Heights, Tipton, University, and Sheridan.  The top five teams from Sectionals qualify to move on to Regionals.   For individuals to advance to Regional competition runners had to finish in the top 10 of Sectionals not on the advancing 5 teams.
 CONGRATULATIONS to Tommy Veerkamp on advancing to Regionals!! 
Tommy finished 5th in the top 10 Individuals not on the advancing 5 teams.
 The Tiger boys' Cross Country runners had an amazing effort and great performances from everyone finishing 7th out of 11 teams.  Leading the pack was Tommy Veerkamp in 39th with a time of 17:17, Robby Muse-Myers 51st (18:58), Nathan Wire 52nd(19:12), Kory Ohlemacher 57th (20:03) Conner Belcher 58th (20:14), Noah West 61st (21:10) and Garrett Rowe 63rd (21:48)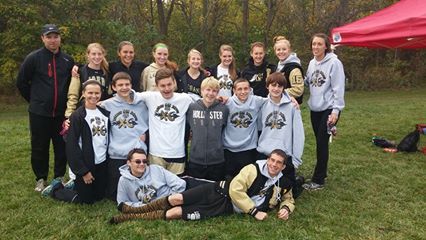 The Tiger girls' Cross Country team finished 10th for the day, also with great performances from all the girls.  Leading the way with a strong run was Macy Cooper in 46th in a time of 22:58, Casey Vancamp 52nd(23:27), Kate Stanley 54th (23:42), Rachelle Smith 59th (24:56), Katelyn Johns 61st (25:28), Charlotte Skillington 62nd.(25:34), and Ally Wire 63rd (25:54).
Tommy will be back at Noblesville to run in another tough race at Regionals next Saturday.  To advance to Semi-State Tommy will need to be in the top 10 individuals not on an advancing team and cut another minute or more off of his best time.  The boys race will start after the girls finish, at approximately 11:15 am.